Agenda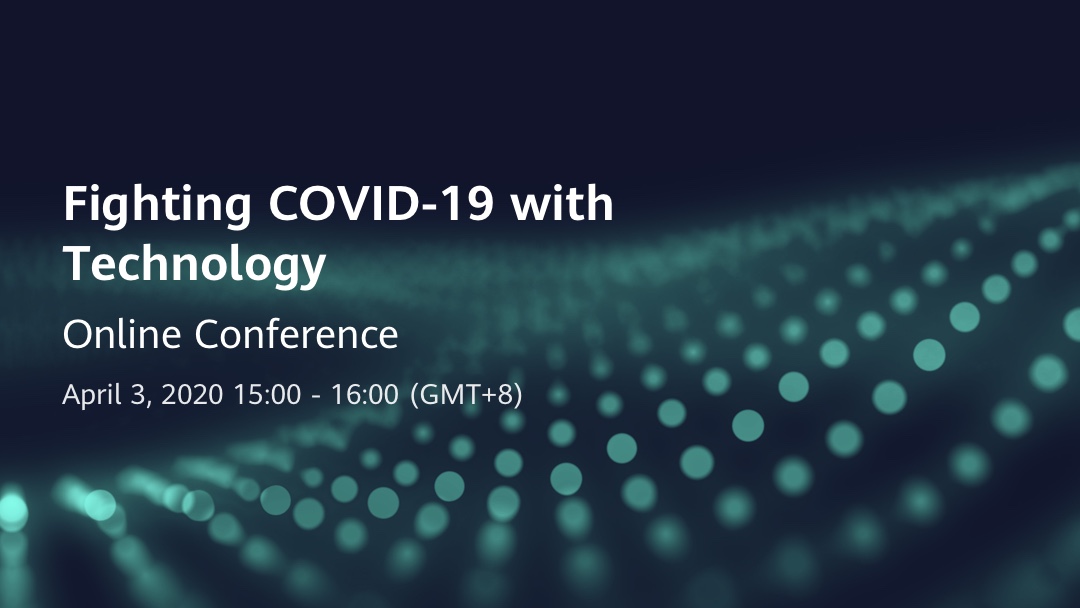 Fighting COVID-19 with Technology
15:00 - 15:20
Deng Tao, President of HUAWEI CLOUD Global Market
HUAWEI CLOUD EIHealth: Healthcare AI Platform
15:20 - 15:40
Dr. Qiao Nan, R&D Director of HUAWEI CLOUD EIHealth
HUAWEI CLOUD Anti-COVID-19 Partner Program
15:40 - 16:00
Mark Chen, Director of HUAWEI CLOUD Global Partner Business Dept
AI Healthcare
HUAWEI CLOUD EIHealth Accelerates Anti-Virus Drug Discovery
HUAWEI CLOUD EIHealth Accelerates Anti-Virus Drug Discovery
During the coronavirus pandemic, research institutes can apply for free access to EIHealth, an AI R&D platform from HUAWEI CLOUD. EIHealth can be used for genetic research, anti-virus drug discovery, and medical image research and analysis, accelerating the development of new antivirals and speeding up virus detection.
▪ AI can be used to accelerate gene analysis and help doctors and institutions provide patients with virus nucleic acid test results.
▪ Out-of-the-box AI analysis of medical images and AI-based modeling are provided for drug discovery.
▪ AI can be applied to screen millions of molecules for potential treatments in just a few hours, thereby accelerating the discovery of coronavirus drugs.

AI-Assisted Diagnosis and Quantitative Analysis of COVID-19 with HUAWEI CLOUD EI
AI-Assisted Diagnosis and Quantitative Analysis of COVID-19 with HUAWEI CLOUD EI
Automatic evaluations of CT scans can be provided quickly and accurately for radiologists and clinical doctors. Results are outputted in just seconds. APIs for AI services can be provided to connect to the PACS system of the customer's live network or HUAWEI CLOUD partners.
▪ Lesion segmentation and quantitative analysis: Lesions such as ground glass opacity (GGO) and consolidation opacity can be identified in medical imaging, with their size automatically calculated.
▪ 3D reconstruction: With the location of the lesions identified, a 3D image can be automatically created for you to review.
▪ Follow-up examinations and comparisons: 4D dynamic data quantitative analysis can be implemented to help doctors more effectively evaluate disease progress and drug effects.

To assist in combating COVID-19, we offer our technical expertise in AI-assisted diagnosis, free of cost by May 1. Contact us for more details.
Online Education
Classes Are Stopped But Learning Doesn′t Have To
Classes Are Stopped But Learning Doesn′t Have To
HUAWEI CLOUD is working with partners to provide online teaching services for primary and secondary schools and colleges during these hard times, so teachers can still teach and students can still learn.
▪ Distance learning: Teachers and students can interact through audio, video, and chat rooms.
▪ Curriculum development: Online tools make course development more efficient, and allow teachers to work together remotely and share teaching materials.
▪ Online self-study: Students can learn on their own, using low-latency HD VOD. Teaching content distribution is faster, exams can be taken online, and learning progress is monitored in real time.

Enterprises on Cloud
HUAWEI CLOUD Offers a Range of Cloud Services for Free
HUAWEI CLOUD Offers a Range of Cloud Services for Free
Register with HUAWEI CLOUD and get 1500-hour free usage quotas for 10 hot products.
▪ Free cloud services: Take advantage of free cloud services, including ECSs (2 vCPUs and 4 GB memory), databases, storage, cloud backup, and a world-class CDN.
▪ Security, compliance, and reliability: HUAWEI CLOUD ensures data neutrality and stable service operations with over 40 security and privacy compliance certifications, meeting the compliance requirements of different industries and regions.
Legal Disclaimer
▪ The Service provided by HUAWEI CLOUD is not intended to replace professional medical advice and shall not be regarded as the substitute of such advice. Please always ask your physician or other qualified people for medical advice.
▪ HUAWEI CLOUD enables partners and customers to leverage cloud and AI technologies to enhance their competences. You understand and agree that HUAWEI CLOUD does not provide medical advice or endorsements. HUAWEI CLOUD does not recommend or endorse any specific tests, drugs, devices, products, services, physicians, or medical institutions that may be mentioned or referenced in this Service. This Service or any result of using the Service is not a substitute for medical advice.
▪ Reliance on any information provided by this Service is at your own risk. HUAWEI CLOUD is not responsible or liable for any advice, course of treatment, diagnosis, drug and device application, or any other information, services, or products that you obtain through this Service.
▪ HUAWEI CLOUD has the right to freeze or terminate your account if it is registered for malicious purposes or if you use HUAWEI CLOUD resources for card theft, fraud, crypto-currency mining, or any other illegal purposes.
▪ HUAWEI CLOUD may contact you via the contact information you provide if you are found to be using cloud resources for illegal purposes. If you cannot be contacted, HUAWEI CLOUD reserves the right to freeze or terminate your use of cloud resources and services and deregister your account.
▪ For free packages, please refer to the detailed information at: https://activity.huaweicloud.com/intl/en-us/free_packages/index.html
▪ All users participating in the promotion are deemed to have agreed with the HUAWEI CLOUD Customer Agreement.